Who is Dave McCracken?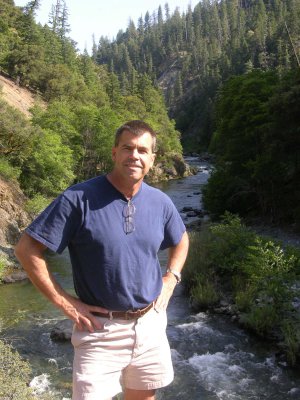 By Marcie Foley

Dave grew up on the East Coast of America.
His father was a career Naval Officer, mostly commanding submarines during the cold war. Dave's mother worked as a registered nurse for most of her life, in addition to raising four children. Dave has two brothers, one older (Mike) and one younger (Tim), and a sister (Karen), who is younger.

After high school, in 1973, Dave joined the Navy, and graduated UDT/SEAL training class 77 in San Diego, California. He graduated as one of only seven men, from a beginning-class of 57 enrollees (each who had to meet very stiff enrollment requirements to even qualify). Most quit because of the emotional duress and severe difficulty of the training program.

Here is an article written by Skin diver Magazine which covered the "hell week" which Dave went through in Seal Team training during 1974. And here is Dave's personal story about surviving "hell week".

Dave spent four years in the Navy, stationed in Coronado, San Diego with the UDT/SEAL teams. He made one tour to Vietnam/Westpac, and he spent nearly a year working in the specialized "SDV" (Swimmer Delivery Vehicle) program. These were very specialized portable wet-submarines used to quietly transport SEAL platoons into difficult or guarded areas.
| | |
| --- | --- |
| | |
| | |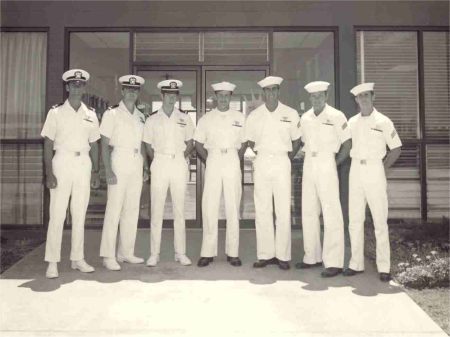 There was nothing very interesting happening at the end of his 4-year tour, so Dave did not re-enlist. Instead, Dave moved to Los Angeles and started a commercial diving business, mostly performing underwater maintenance on yachts. He also took on a very extensive self-study program in business and philosophy.

Gold prices were going up dramatically during late 1979, and Dave began to consider that he might be able to use his diving ability and experience to recover gold from the bottom of California's rivers. Dave was also looking for a life outside of the city. He discovered (through a magazine) that people were already using suction dredges, so Dave made a trip to Keene Engineering (in Northridge, California) to discover an entire product-line of underwater mining equipment.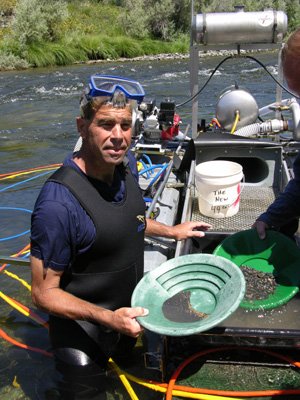 The day after Christmas in1979, Dave launched his first expedition with an old SEAL Team buddy and the buddy's brother. They started in southern Oregon, and ended up in northern California 6 weeks later. After reading all of the available literature on underwater mining, they found the information was not much more than instructions on how to assemble the equipment.

Dave and his partners had a very difficult time of it in the beginning, trying to figure out by themselves workable methods of locating gold deposits, especially during the bitter cold winter months when water-levels were running high and muddy. It was several months of severe hardship before Dave and his partners located their first commercial-grade gold deposit (about $60 a day), which was enough to pay expenses and feed them.

Dave's partners lost interest before the spring-thaw, and departed with the dredge, truck, and most of the other equipment they were using together. The (ex) partners controlled a 2/3 share, so they sold the equipment to recoup some of their losses and billed Dave for the remaining third, since they put up the initial investment. Dave paid that debt in full from gold he recovered several months later.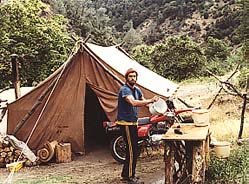 After his partners left, Dave found himself alone in the forest, living in a tent, with very few resources to get by on. Cold nights and an empty stomach found Dave struggling to learn all he could about how to find high-grade underwater gold deposits. He soaked up every bit of knowledge he could get from the old miners he encountered along the river. He could have returned to commercial underwater work in Los Angeles, but Dave was determined to make a go of it in gold mining, and not give up until there was no other choice. In time, Dave figured out that the main key to finding commercial gold deposits was in learning to sample.
Shortly after his partners left, an acquaintance offered to grubstake Dave with a dredge of his own, for a percentage of Dave's gold recovery until the dredge was paid for, with interest. Dave was able to pay off the dredge within a short time because his skill at locating commercial gold deposits had improved. Things were getting better as warmer weather set in during the spring of 1980.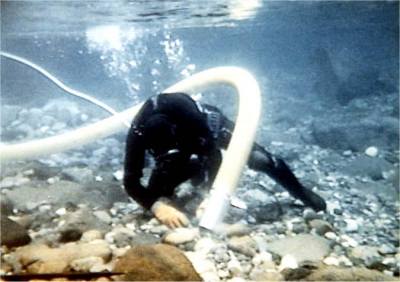 Dave wrote his first book on gold mining while still living in a small tent out in the forest -- so that others would have something to go by. He went on to publish four more books on gold mining techniques during the next few years. Dave's books remain widely acknowledged today as the world's authoritative work on underwater and most other types of small-scale mining techniques.

Other miners on the Trinity River started calling Dave "Ounce-a-Day," because he always seemed to be getting that much gold or more when dredging alone on the river.

Dave spent those first three years of his gold mining career living and working out of a tent, writing his first two books by the light of a Coleman lantern. By living this way and keeping expenses at a minimum, he was able to channel profits into expanding the production-capabilities of his dredging operation.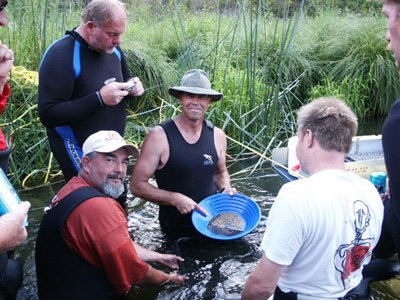 During the summer of 1982, Dave led his two brothers and Eric Bosch (Dave's dredging partner during that time and for many years later) on a gold mining expedition to Canada and Alaska with four dredges. They spent most of the 1982 mining season in British Columbia, making enough money that Dave was able to take the next winter off, rent a nice warm apartment, and write his third and fourth books. He began working upon his first video presentation that winter, and had it produced by a professional video production company during 1983. Several more video productions (also available in DVD format) followed shortly thereafter.

Investing his golden profits into further expansion, Dave hired a researcher during 1983 to explore for the availability of mining claims along the Klamath River in Northern California. The research proved to be very successful. Operating his two commercial dredges along the Klamath River, with a six-man crew running two shifts, while also taking on about 30 students, the 1984 season was his most successful. Their best day of recovery was 24 ounces of gold from a single dredge, and the largest nugget recovered was over 15 ounces!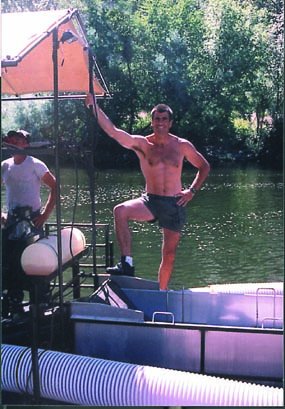 Having accumulated miles and miles of gold-bearing mining properties along the Klamath River and its tributaries, Dave began work on forming The New 49'er Prospecting Organization in late 1985. As Dave's name was already well known and respected within the field of small-scale gold mining, the organization quickly grew, both in mining claims and in people. Both the U.S. Forest Service and the Bureau of Land Management have acknowledged this organization as being legitimate under the 1872 mining law; because so many of the members actually go out and develop high-grade gold deposits. There is more serious small-scale gold prospecting activity going on in Siskiyou County, associated with this group, than in any other location within the United States.

Dave now invests his time between May through September, providing assistance to members of The New 49'ers and managing Group Mining Projects along the Klamath River and its tributaries in northern California.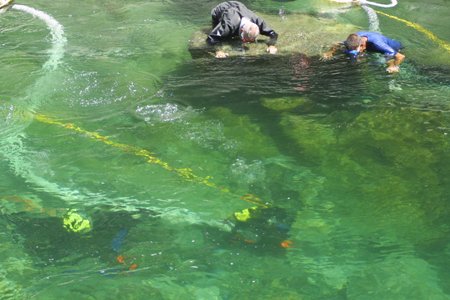 Between the months of October through April, Dave generally devotes his creative energies into managing team-mining projects outside of America. Dave has prospected for gold in South and Central America, Africa, Madagascar, Borneo, West Sumatra, Canada, Viet Nam & Cambodia and other locations in Asia.


Dave's Summary of Qualifications
Tuning Into the Wavelength of Success