Gold Sampling And Mining Property Evaluation
When you need accurate and honest answers to tough, critical questions.

We all know that the success of any mining venture depends on the real values present in the property. Before making the substantial investment or securing the backing needed to begin production, it is critical to know without a doubt what the true potential of a given location is.
All too often, well-founded and serious commercial gold mining projects fail because of inadequate or inaccurate preliminary sampling.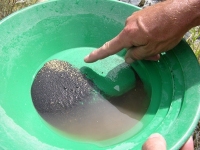 Pro-Mack Mining has the experience, motivation, staff, and equipment on hand to fulfill your underwater sampling requirements anywhere in the world


Pro-Mack mining's approach puts the whole sampling process in order. Our professional dive teams, consulting geologists and precision recovery methods give you accurate sampling results you can "take to the bank".

To find out how Pro-Mack Mining's master-level consulting team can get your mining project on a solid footing contact us today.

To view photos of some sampling operations we have conducted visit the Photo Gallery.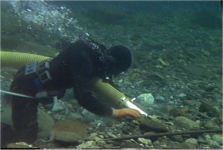 Different Kinds Of Sampling

Prospecting for Gold in Hard-packed Streambeds

Application is the Key to Success

Hard Work

Fast Water Dredging

Tuning Into the Wavelength of Success

Never Give Up!